(Please allow the page time to load...)
The Dutch Royal House
Het Nederlands Koninklijk Huis

Click on the images or the Speaker to hear the Dutch pronunciation

The Kingdom of the Netherlands is a constitutional monarchy: in other words, the monarchy is based on the constitution and the monarch's position is regulated by the constitution, certain Acts of Parliament and unwritten constitutional law.
* * *


The Dutch Government Arms with the two lions, left and right.
The motto at the bottom says:
Je maintiendrai
I will vindicate

Click here for a thorough explanation of the Coat of Arms
The imperial globe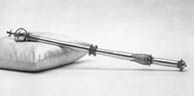 The imperial scepter
* * *
The Monarch: Queen Beatrix
Wilhelmina Armgard of Orange-Nassau
(since 30 April 1980)

Click here for her biography
* * *
The title to the throne is vested in the members of the family of the reigning monarch to the third degree of consanguinity.

The Heir Apparent is Willem Alexander, Prince of Orange (born 27 April 1967), son of the monarch.


* * *

Constitutional status
The Government consists of the sovereign and the Cabinet ministers. Since 1848, the constitution has laid down that the King is inviolable and that the ministers bear responsibility for affairs of government, which means that they are answerable to parliament for all legislation. Acts of Parliament and Royal Decrees, for which the approval of parliament is not required, are signed by both the sovereign and the minister responsible. By so doing, the Queen gives the royal assent, and the minister accepts full constitutional responsibility.

* * *
* * *

---
Vocabulary:

Koninklijk Huis - Royal House
Monarchie - monarchy

Vlag - flag
De koninklijke kroon - the imperial crown
De rijksappel - the imperial globe
De scepter - the scepter
Het zwaard - the sword
Koningin Beatrix - Queen Beatrix
Troonopvolger - heir apparent

Willem Alexander, Prins van Oranje - William Alexander, Prince of Orange
---
Web resources:
http://www.koninklijkhuis.nl/UK/welcome.html

---