The Royal Wedding
Our crown prince Willem Alexander got married!




Willem Alexander, prince of Orange
and Ms. Maxima Zorregieta


Click on photographs to enlarge pictures,
use your back arrow to return to this page

Click here for their biographies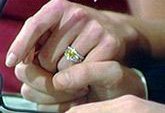 The Engagement Ring, de verlovings ring, with an orange stone.



The Royal Wedding
took place on February 2, 2002.

The Prince of Orange and his bride got married in the Capital of Holland: Amsterdam

The civil marriage ceremony took place in the Beurs van Berlage building on
Damrak in Amsterdam.






The ceremony was performed by the Mayor of Amsterdam, Burgemeester Job Cohen. In addition to family, friends and guests of the Royal Couple, the ceremony, which begins at 10.15 hours, was attended by approximately 600 invited guests from all parts of the Kingdom.


For information on the Church blessing, click on the picture of the Nieuwe Kerk: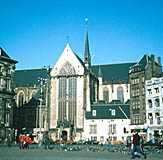 Then click on "Wedding Day" - "Church Ceremony"

Following the ceremony in the Nieuwe Kerk church, the Royal Couple toured the centre of Amsterdam in the Golden Coach: de Gouden Koets.

Click to enlarge

The Golden Coach - De Gouden Koets



After completing the tour, the Royal Couple appeared on the balcony of the Royal Palace.

The Royal Palace, Koninklijk Paleis,




on Dam Square in Amsterdam was the center of the festive events surrounding the wedding of HRH the Prince of Orange and Ms Máxima Zorreguieta. For some background information click here...



Click here to find a memorial wedding present for you to take home :-)
(then right click on the present and save it to your own hard disk)


More Royal Wedding Links:

The link to the Program of the Royal Wedding of the City of Amsterdam






Do click on The Lounge, to hear various versions of The Dutch National Anthem,
Het Wilhelmus
Or try a fortune cookie - you can even send one to your friend...

Link to the Nieuwe Kerk, the Church where the wedding took place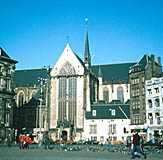 Link to the Beurs van Berlage,
where the Civil Marriage Ceremony was held.
---
Vocabulary:
You can click on the Dutch text to hear the pronunciation again
Prins Willem Alexander en Maxima Zorreguieta - Prince Willem Alexander and Maxima Zorreguieta
de verlovings ring - the engagement ring
Beurs van Berlage - stock exchange building built by the Dutch Architect Berlage.
Damrak - Damrak
Burgemeester Job Cohen - Burgomaster Job Cohen
Nieuwe Kerk - the New Church
de Gouden Koets - the Golden Coach

Koninklijk Paleis (op de Dam) - Royal Palace on Dam Square
---
Web resources:
http://www.koninklijkhuis.nl/UK/welcome.html

http://www.koninklijkhuwelijk.nl/en/programma.html
http://www.tiscali.nl/oran/oran_center.asp